Bookstore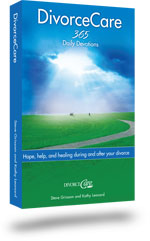 Divorce Care: Hope, Help, and Healing During and After Your Divorce
There is joy, strength and healing available to you in the midst of separation or divorce.
Things may look bleak right now. Your world is a mix of shock, anger, hurt and hopelessness. Many of the people around you don't understand the depth of your pain or the complexity of the challenges you face. You feel rejected, betrayed and exhausted. You wonder if the pain will ever end. But recovery from separation and divorce is possible.
In this 365-day devotional, you will meet men and women who have come through the darkness of separation and divorce and who now walk in the bright hope of God's love and healing. You will be encouraged and inspired by some of today's most respected and well-known Christian leaders and psychologists, including Kay Arthur, Dr. Tim Clinton, H. Norman Wright, and Dr. Tony Evans. The daily readings and heartfelt prayers in the DivorceCare book affirm God's love for you. You'll discover that the divorce process can be a powerful catalyst for good in your life, transforming deep loss into meaningful growth with God.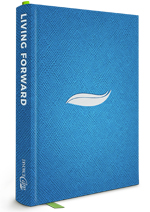 Deepen your recovery and self-discovery
You've heard the benefits of journaling, but if your goal is to heal deeply from your painful separation or divorce, simply putting raw emotions on paper isn't enough. That's why we've created a guided journal. It offers probing questions that guide your writing, bringing self-discovery, stability, and hope that empowers you to live forward.
Special features:
Hardcover with thread-sewn binding
Textured cover
DivorceCare logo embossed in silver
Ribbon bookmark attached
Premium paper
Lovely interior design
Ample space for free-form journaling